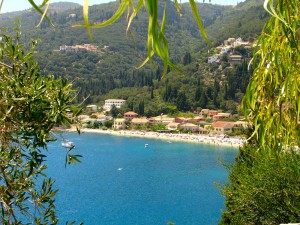 If you are looking for a place to spend your vacations that combines the magic of the Mediterranean landscape with a calm and safe location, then Kalami in Corfu will become your favorite destination.
The town of Kalami with its outstanding natural beauty that inspired the British novelist Lawrence Durell to write his book "Prospero's Cell" is situated in the northeast side of the island, 30Km from the town of Corfu. It is a picturesque bay, with a beach located on the foot of a green hillside surrounded by olive and pine trees. It is the ideal place for calm vacations, safe for families with children, a place for relaxation, companionship and romanticism. You can swim with safety, enjoy sea sports, rent a small boat or just lie on the beach.
In kalami you may find mini-markets, shops with souvenirs, cocktail bars and traditional taverns. There is also a daily transport service available which connects Kalami with Corfu and Kassiopi.